忠烈楊家將獲選遠東電影節閉幕電影(on.cc 東方互動)
[16:08] 2013/04/23
鄭伊健和林峯主演的電影《忠烈楊家將》獲第15屆意大利烏甸尼斯遠東電影節選為閉幕電影。
【on.cc 東方互動 專訊】 由于仁泰執導,藝人鄭少秋、鄭伊健、林峯、吳尊等主演的電影《忠烈楊家將》獲第15屆意大利烏甸尼斯遠東電影節選為閉幕電影,對於獲選成為閉幕電影,于仁泰感到十分榮幸,感謝各方對這部電影的支持及愛戴,認為電影取自中國的民間故事,但當中有關忠孝仁義、家庭和愛的訊息卻是世界大同,所以相信外國觀眾會跟亞洲觀眾一樣喜歡這部電影。
http://news.on.cc/cnt/entertainment/20130423/bkn-20130423160852511-0423_00862_001.html
==============================================
意國遠東電影節 《忠烈楊家將》成閉幕電影(香港成报)

2013-04-24 00:44:00 
核心提示:由于仁泰執導,鄭少秋、鄭伊健、于波、周渝民、李晨、林峯、吳尊及付辛博等型男主演的電影《忠烈楊家將》,於4月4日全球上映以來各界反應熱烈、口碑不絕。
鄭伊健(右)持長矛殺入敵陣。
  由于仁泰執導,鄭少秋、鄭伊健、于波、周渝民、李晨、林峯、吳尊及付辛博等型男主演的電影《忠烈楊家將》,於4月4日全球上映以來各界反應熱烈、口碑不絕。
  昨日又傳來好消息,「第15屆意大利烏甸尼斯遠東電影節」正式宣布《忠烈楊家將》獲選為閉幕電影。
  于仁泰導演闊別影壇七年,歐美觀眾對《忠烈楊家將》亦同樣是翹首以待。對於獲選成為閉幕電影,于導演表示感到十分榮幸,並感謝各方對這部電影的支持及愛戴。
  黃百鳴統籌演員檔期
  認為《忠烈楊家將》雖然是取自中國的民間故事,但當中有關忠孝仁義、家庭和愛的信息是世界大同的,所以相信外國觀眾會跟亞洲觀眾一樣喜歡這部電影。
  監製黃百鳴收到此喜訊已急不及待通知眾演員及工作人員,並表示現正密鑼緊鼓統籌各演員的檔期,希望能以總動員的姿態出席4月27日的閉幕禮。
http://www.singpao.com/yl/mx/201304/t20130424_431194.html
====================================================
http://www.fareastfilm.com/EasyNe2/LYT.aspx?Code=FEFJ&IDLYT=7505&ST=SQL&SQL=ID_Documento=4003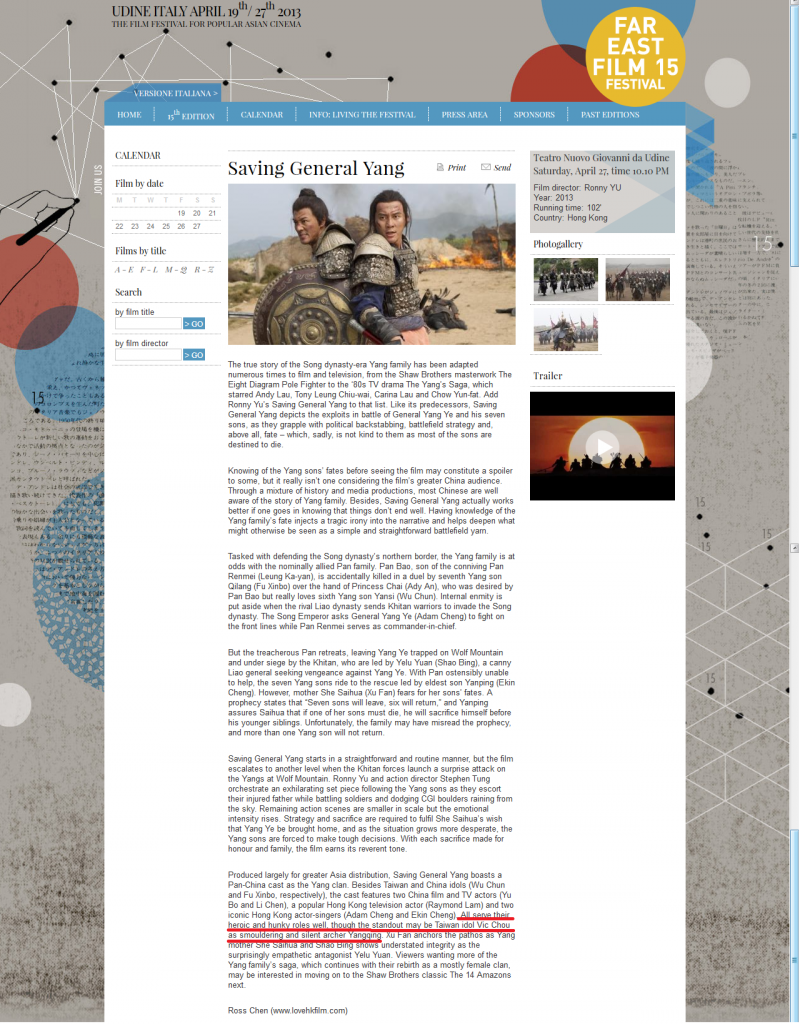 Saving General Yang
The true story of the Song dynasty-era Yang family has been adapted numerous times to film and television, from the Shaw Brothers masterwork The Eight Diagram Pole Fighter to the '80s TV drama The Yang's Saga, which starred Andy Lau, Tony Leung Chiu-wai, Carina Lau and Chow Yun-fat. Add Ronny Yu's Saving General Yang to that list. Like its predecessors, Saving General Yang depicts the exploits in battle of General Yang Ye and his seven sons, as they grapple with political backstabbing, battlefield strategy and, above all, fate – which, sadly, is not kind to them as most of the sons are destined to die.
Knowing of the Yang sons' fates before seeing the film may constitute a spoiler to some, but it really isn't one considering the film's greater China audience. Through a mixture of history and media productions, most Chinese are well aware of the story of Yang family. Besides, Saving General Yang actually works better if one goes in knowing that things don't end well. Having knowledge of the Yang family's fate injects a tragic irony into the narrative and helps deepen what might otherwise be seen as a simple and straightforward battlefield yarn.
Tasked with defending the Song dynasty's northern border, the Yang family is at odds with the nominally allied Pan family. Pan Bao, son of the conniving Pan Renmei (Leung Ka-yan), is accidentally killed in a duel by seventh Yang son Qilang (Fu Xinbo) over the hand of Princess Chai (Ady An), who was desired by Pan Bao but really loves sixth Yang son Yansi (Wu Chun). Internal enmity is put aside when the rival Liao dynasty sends Khitan warriors to invade the Song dynasty. The Song Emperor asks General Yang Ye (Adam Cheng) to fight on the front lines while Pan Renmei serves as commander-in-chief.
But the treacherous Pan retreats, leaving Yang Ye trapped on Wolf Mountain and under siege by the Khitan, who are led by Yelu Yuan (Shao Bing), a canny Liao general seeking vengeance against Yang Ye. With Pan ostensibly unable to help, the seven Yang sons ride to the rescue led by eldest son Yanping (Ekin Cheng). However, mother She Saihua (Xu Fan) fears for her sons' fates. A prophecy states that "Seven sons will leave, six will return," and Yanping assures Saihua that if one of her sons must die, he will sacrifice himself before his younger siblings. Unfortunately, the family may have misread the prophecy, and more than one Yang son will not return.
Saving General Yang starts in a straightforward and routine manner, but the film escalates to another level when the Khitan forces launch a surprise attack on the Yangs at Wolf Mountain. Ronny Yu and action director Stephen Tung orchestrate an exhilarating set piece following the Yang sons as they escort their injured father while battling soldiers and dodging CGI boulders raining from the sky. Remaining action scenes are smaller in scale but the emotional intensity rises. Strategy and sacrifice are required to fulfil She Saihua's wish that Yang Ye be brought home, and as the situation grows more desperate, the Yang sons are forced to make tough decisions. With each sacrifice made for honour and family, the film earns its reverent tone.
Produced largely for greater Asia distribution, Saving General Yang boasts a Pan-China cast as the Yang clan. Besides Taiwan and China idols (Wu Chun and Fu Xinbo, respectively), the cast features two China film and TV actors (Yu Bo and Li Chen), a popular Hong Kong television actor (Raymond Lam) and two iconic Hong Kong actor-singers (Adam Cheng and Ekin Cheng).
All serve their heroic and hunky roles well, though the standout may be Taiwan idol Vic Chou as smouldering and silent archer Yangqing.
Xu Fan anchors the pathos as Yang mother She Saihua and Shao Bing shows understated integrity as the surprisingly empathetic antagonist Yelu Yuan. Viewers wanting more of the Yang family's saga, which continues with their rebirth as a mostly female clan, may be interested in moving on to the Shaw Brothers classic The 14 Amazons next.
Ross Chen (www.lovehkfilm.com)